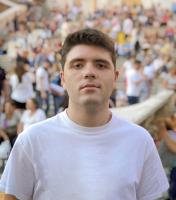 Laureato in ingegneria informatica e dell'automazione offre ripetizioni efficaci
Dottore in ingegneria informatica e dell'automazione, propone lezioni di matematica, 'aiuto' compiti, lezioni di inglese, preparazione concorsi - tesi e test di ingresso in ingegneria
: Tutor
: 22
: M
: Graphic Design, English, Algebra, Calculus, Mathematics, Matlab, Trigonometry, Physics, Other mathematical subjects, Philosophy
: Laurea triennale in Ingegneria Informatica e dell'Automazione presso il Politecnico di Bari (108 su 110). Attualmente studente magistrale in Automation and Control Engineering presso il Politecnico di Milano. Diploma in liceo scientifico tradizionale 100 e lode. Appassionato di filosofia, storia, matematica e tecnologia.
: Italian, English
: Bachelor
: All
: 15 : 20
: elementare, scuola media e il primo biennio di scuola superiore (15 euro). Per la preparazione ai testi di ingresso universitari 20 euro
: alta flessibilità da concordare con lo studente
: BAT
: Italy
: 76121
: Only online or tutor's home/office
: Online, Email

In passato, ho già svolto attività di supporto-studio con degli ottimi risultati conseguiti in termini didattici e di soddisfazioni individuali. Dalla mia parte ho la capacità di interagire rapidamente con lo studente comprendendone le difficoltà, aiutando quest'ultimo a superarle.
Fondamentale è la chiarezza comunicativa. Un linguaggio semplice, diretto, immediato è alla base di qualsiasi buon risultato.
: Ho 22 anni e sono laureato in Ingegneria Informatica e dell' Automazione (votazione 108 su 110). Appassionato da sempre di tecnologia, ad oggi, sono studente magistrale presso la facoltà in lingua inglese di Automation and Control Engineering, Politecnico di Milano.
: 3
: Student
: Secondary job
: No
: 9 months (2023-01-20 10:13 UTC)