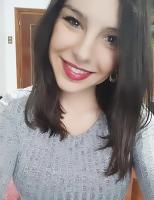 Docente di Filosofia e Scienze Umane presso un liceo scientifico e Psicologa
Salve a tutti, sono una psicologa laureata e specializzata in psicologia dinamico-clinica dell' infanzia, adolescenza e famiglia a "La Sapienza", di Roma. Vivo a Torino da due anni e sono docente presso un liceo scientifico. Impartisco lezioni di Psicologia e Filosofia individuali o collettive. Sono disponibile anche ad aiutare nello studio bambini e ragazzi delle elementari e medie, PdP, allievi con disturbi dell' apprendimento e BES (ho svolto dei corsi specifici per loro).
La metodologia è improntata sullo studente, in base alla preparazione e alle modalità di apprendimento del singolo. Non credo che esistano cattivi studenti, ma un metodo di studio non corretto per loro. Per qualsiasi cosa e chiarimento, potete contattarmi.
: Tutor
: 32
: F
: Psychology, Other Mind-related Subjects, History of Philosophy, Italian, Photography History, Personal Development, How to Increase Self-Esteem, How to Overcome Fears, Digital Photography, Primary School Subjects

Docente di Filosofia e Scienze Umane
Aggiornamento continuo
Corsi LIM, TABLET, CODING, 8 MODULI.
Corsi di Fotografia
: Psicologa. Specializzata in età evolutiva.
: Italian
: Master
: All
: 10 : 15
: Varia in base alla richiesta e alla materia da insegnare
: Pomeridiani e serali. Martedi disponibile anche in mattinata
: Torino
: Italy
: 10126
: 10 Miles
: Online, Email, Phone, S-home

Come psicologa ho esperienza con i bambini, anche con autismo, BES e DSA. Sono stata insegnante delle elementari e quest'anno presto servizio in un liceo scientifico, quindi mi relaziono quotidianamente con adolescenti. Sono anche tutor interno per il PCTO dei ragazzi e gestisco uno stage formativo sulla fotografia.
: Sono insegnante da due anni.
: 2
: School Teacher
: Helping people
: Yes
: 2 years (2021-11-22 14:28 UTC)