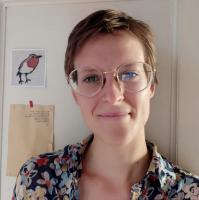 Young school teacher of Latin, Italian, and ancient Greek
I teach in an Italian high school Latin, ancient Greek and Italian (grammar and literature). I have a very passionate, fresh and interdisciplinary approach. I'm also graduated in Philosophy and Religious Studies, so these are also subjects in which I can help. I speak Italian, English, Spanish and French, and it's possible to have lessons in all these languages. I have a long experience in tutoring, and two years in teaching in school.
: Tutor
: 27
: F
: Philosophy, Religion, Greek (ancient), Italian, Latin
: Graduated in Philosophy and Religious Studies, I've always tutored in Italian, Latin and Ancient Greek, and I'm teaching these subjects in private high schools.
: Italian, Spanish, French, English
: Master candidate student
: High school
: 20 : 30
: 10 lessons will have 10% off.
: Very flexible
:
: Italy
: 20131
: Only online or tutor's home/office
: Online
: 7 years tutoring students form middle or high school, 2 years teaching in high school.
: 7
: School Teacher
: Secondary job
: No
: 4 months (2022-06-06 10:02 UTC)